Services
>
Gastronomy
>
Český Krumlov
>
Restaurant
Restaurant Na Louži
Kájovská 66
38101 Český Krumlov
Contact: Votřel Miroslav
Telephone: +420 380 711 280

E-mail: hotel@nalouzi.cz
WWW: www.nalouzi.cz

Location: Český Krumlov
Type:
Restaurant
Alehouse - Tavern - Pub
Inside Capacity: 36
Outside Capacity: 6
Language knowledge: CZ, DE, EN
Beer:
Eggenberg
Cuisine:
Czech
Daily menu na dalších 7 dní
23.2.2020
Hospoda Na Louži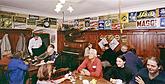 We serve traditional Czech cuisine and the famous Eggenberg beer.
The pub features a collection of advertising signs from old Czech products.
Further Information: Selection of the menu. [PDF 25 kB]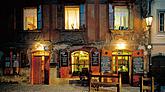 Historical building from 1459.
Please book well in advance as there are only 11 spacious guest rooms available. Parking and even room for your horse is also still provided.
We also have currency exchange available.
Photogallery